Efficient & Experienced

CNC Machining Facility
As technology is the driving force in every aspect of life today, the mechanics of supplying the parts that keep all of the world's industry operating and moving forward is just as pivotal. Combining the wizardry of high-tech applications with good old human ingenuity wherein the will answers to the call, the emergence of CNC machining has reached the level of being a real game changer. 
Ever since humans first made the effort to fashion a tool to make anything from arrowheads to machine screws, the desire to consistently improve upon the methods used to build a better widget has continued to evolve. With the added advantage of other sectors of civilization that have made their scientific, mechanical and financial contributions, manufacturers now have available to them the highest levels of perfection in producing their parts.
25mm diameter capacity
Full C Axis main and back spindles
Stationary and live tools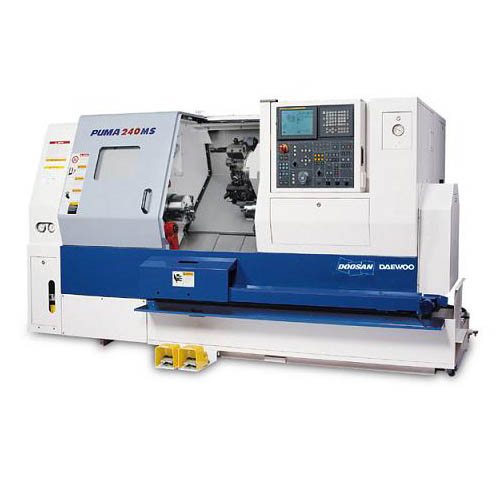 CNC Equipment
From Prototype to Production
5 & 6 Axis CNC Turning Centers
CNC Lathes
CNC Mills
Wire EDM Machine
Capacities to 2"in Diameter Bar Fed and to 8"in Diameter Chucked
Computer Numerical Control (CNC)
At the center of parts production are CNC machines that utilize modern computer technology to generate the code, or language, needed to direct the movements of mechanically forming uniform parts through the fastest output with the least amount of material reduction.
It starts with the computer-aided design (CAD) that transforms human imagination into digital files with ultimate quality of design. Computer-aided manufacturing (CAM) is used to store and transmit when and how the mechanical functions of the machine's movements occur.
The Ultimate in Precision Machining
There are CNC machines that operate on simple X, Y and Z axes that make use of a gantry and servomotors to move the work piece being shaped beneath a stationery spindle. There is also more elaborate CNC machining accomplished through a moveable head with as many as 5 axes enabling shaping from numerous orientations.
Perhaps the greatest benefits of CNC machining is in the precision milling or screw machining that produces precision to the most exacting standards and tolerances. This makes it possible to produce everything from fine medical instruments to the ubiquitous machine screws without which our world simply would not exist as we know it.
CNC machines are capable of completing each piece through shaping and surfacing with either a finely polished surface or a knurled textured finish allowing for necessary gripping. Machine screws undergo more complex machining that utilizes interchangeable spindles operating simultaneously and capable of handling a variety of bar stocks that are either round, square or hexagonal.
Our team of high-tech experts are at your service to produce your short or long runs with the fastest output and minimal reduction to reduce waste and generate the greatest cost savings.